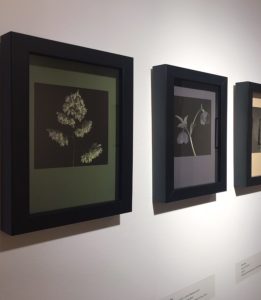 Velvet Black
A solo exhibition of the series combined with the series, Notes, exhibited at the Garden Museum, London, spring 2020.
The first publication from the series launched at Impressions Photobook Fair, Bradford in Oct 2018 and is also selling at The Photographers' Gallery Bookshop in London. Included in the collection of artists' books at the Victoria and Albert Museum's National Art Library; Aperture's Photobook Library, The Martin Parr Foundation Library, Biblioscapes online Library, the legal deposit libraries and The Garden Museum collection.
The initial book dummy was made in 2012, Lensculture featured the series online in 2014 when it was the first in the body of work titled, Colour from Black.
Images from the series exhibited in ….on making curated by Sian Bonnell and Malgosia Zwolicka at The Photographic Gallery, the National Museum of Gdansk, Poland from March to June 2019. Alongside a painting exhibition Made In Britain. Gardens Illustrated featured the series Velvet Black in the magazine, June 2019, written by Rosanna Morris.
In September 2019 one image was produced as a 10″ x 12″ limited edition of 30 for Field Editions and exhibited in their collection of Artist's Editions at Expo Chicago Art Fair.
Velvet Black is reviewed in a new essay by Anneka French for Photomonitor in July 2020.
In Velvet Black my light reapproaches daylight, particularly as it fades to black.The first in my series from Colour from Black where my long-term body of work explores ideas on Nature's Quiet, Beauty, Sensation and Place through a childhood landscape – Encompassing plants and gardens as inner landscapes.
In a quiet subtle way Velvet Black performs An Ode to the Victorians – The series addresses the historical and present-day collecting and tending of plants. Merging in and out of the black velvet background the colour surround becoming both background and foreground highlighting and blurring the captions as the pages progress in the transience of daylight and blooms.The captions varying between Latin and common plant names.
The plants are symbolic of childhood plants and planting a garden.
The publication also combines traditional method with present-day, including four french folded pages and printing four colour with a sunlight-powered litho press.
Limited edition prints available from my  IMPRINT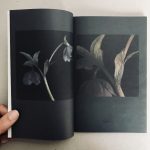 " – Roger Taylor, Prof. Emeritus, Photographic History.